Unidentified Speeding Object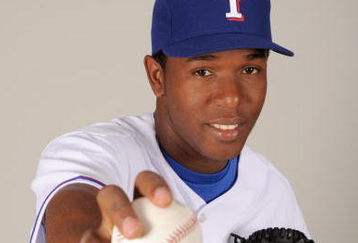 I realize this blog is tilting heavy towards baseball of late, but with the Rangers now tied for the Wild Card with Morgan's steroid-addled Red
Sox
, I think it just might stay like this for awhile. I'll try to keep it snappy and diverse around here, but the Rangers haven't made the playoffs since 1999 (I was there), and even that triumph is now undeniably tainted by mass steroid use. In other words, sorry, but you'll just have to endure my excitement for as long as these scrappy Rangers hang around. And around. And around.
To that end, a couple of Ranger follow-ups:
1) I briefly mentioned the young phenom
Neftali
Feliz
here
and
here
. As I noted in that last post, he
struckout
the first four batters he faced in his major league debut last week. What I hadn't realized was that that had not happened in
over 50 YEARS
. All the K's were swinging, and he hit 100 MPH on six pitches before his final pitch...which was clocked at 101 MPH. Over his next two appearances he hit triple digits another 11 times, and he also tossed a couple of 91 MPH
changeups
for good measure. Good pitching is about so much more than throwing hard, but when you're consistently hitting 100 MPH on the radar gun, throwing hard might be enough. There's nothing more fun than watching a guy with a blazing fastball just rear back and let it rip.
2) I'm glad to see
the response
to Josh Hamilton's relapse has been thoughtful and measured. Most media outlets aren't even
reposting
those
embarrassing
pictures from
Deadspin
. I now, of course, feel like a jerk for having
leapt
at the chance to post one of those salacious images. I think Hamilton's contrite and honest response resonated deeply...especially in light of all the hand-wringing and double-talk that other players use when they try to explain their way out of failed steroid tests (I'm looking at you,
Big

Papi
). Hamilton's press conference, for which you can read the
entire transcript here
, is the way most public figures should handle their dirty laundry---out in the open, honest, no excuses. Nobody wants Hamilton to fail. But everyone now wants
Papi
to fail. Err, I mean
continue
to fail.
One criticism which has been made about the Hamilton relapse is the decision to wait until the photos came forward. The suggestion is that there was some sort of cover-up. Well,
of course
, there was a cover-up. The man is married with three kids and this incident was maybe viewed by 20-30 people. The matter had already been dealt with privately (he told his wife, the Rangers and
MLB
the day after), so why make a national story out of it if there's a chance it never becomes public? They were obviously prepared for it come out eventually, but this is one of those situations where nothing is gained by making a preemptive declaration. You can't fault someone for hoping these pictures never came forward. I'm in the same boat. (fingers crossed)