In a world gone mad... (movie trailer guy voice)
I just stumbled upon semi-old news that Steven
Soderbergh
is
adapting
the book
Moneyball
, a work of non-fiction which describes how Oakland Athletics manager Billy
Beane
revolutionized the game of baseball through his reliance on
sabermetrics
. What's
sabermetrics
, you ask? It's a way to study baseball through the careful analysis of objective evidence, mostly statistics. Yes, Steven
Soderbergh
is making a movie about baseball...statistics.
And who will take on the lead role of Billy
Beane
? Brad motherfucking Pitt, that's who. The film also stars alleged comedian
Demitri
Martin
as "Paul De

Podesta
, a Harvard grad who turned down Wall Street jobs to use his statistical skills to change baseball scouting tactics." But wait. There's more.
Bill James
, the inventor of
sabermetrics
and a god to rotisserie baseball geeks everywhere will also be represented in it.
Animated
. An animated Bill James starring in a Steven
Soderburgh
directed movie next to Brad motherfucking Pitt as Billy
Beane
. I
am not
making this up. Even Darryl Strawberry and Scott
Hatteberg
are in it. I'll shit myself if Rob
Neyer
is played by an
animatronic
version of himself.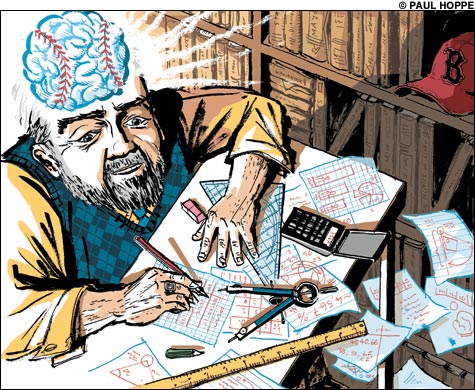 Steven
Zaillian
, whom I love, did the polish for the script, and the book
is
supposed to be good, so this might end up better than I think. The concept of this being an actual movie, however, is sort of
mindblowing
. And maybe that's the point? It's also worth pointing out that
Soderburgh's
latest movie,
The Girlfriend Experience
, is just now available on Amazon.
com's
video on demand as a
pre
-theatrical rental. It stars real life porn star Sasha Grey as a Manhattan escort. From movies about porn stars to movies about baseball stat research. God bless you, Steven
Soderburgh
.