"31 Movies, 31 Days": #11 Stake Land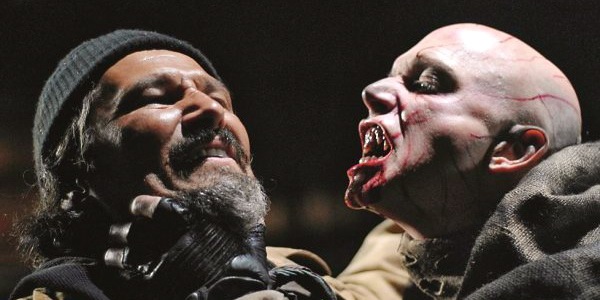 Movie: Stake Land (2011)

Budget: $625,000
Rotten Tomatoes: 76%

Format: Downloaded from Playstation Network


With so many vampire and zombie movies making the rounds these days, it's getting harder and harder for filmmakers to keep the genre fresh and interesting...if they even try at all. Stake Land, a low-budget indie entry to the library, solves this problem by returning to the basics: characters, atmosphere, suspense. You can tell the same story over and over so long as you keep your focus on these essential film-making elements, and director/co-writer Jim Mickle never flinches. Stake Land is a taut, moody, scary, character-driven vampire movie which serves its genre well.
Whether intentional or not, Stake Land seems to channel the style and spirit of Cormac McCarthy's Pulitzer Prize-winning novel "The Road." Two men, one an older mentor and protector to the other, take off through a post-apocalyptic American landscape in search of, they hope, a fabled safe haven. Along the way they have to dodge vampires and cultists while also encountering other people whose presence may be more burdensome than helpful. If you've read The Road, you know that's EXACTLY the same tale...except the vampires are cannibals. Like The Road, Stake Land is a bleak journey. There seems little doubt that the world's end is nigh, a reality that our characters become ever more aware of as their journey expands.
Featuring mostly no-name actors, Stake Land excels, in part, because we don't really know these faces. The actors are good, but it's definitely easier to walk in their shoes without that "oh, hey, it's Tom Cruise" obstacle viewers often face. The older, wiser, more grizzled character on the journey, known only as "Mister," is played well by Nick Damici (who also co-wrote the script). It's refreshing to see an average-looking guy, a no-name actor in his 40's (pictured above), get to carry the water for an action film. It's one reason why I love independent film. This film stands a decent chance at being remade by a Hollywood studio one day and, while it would probably be entertaining, it would be an entirely different kind of movie with Viggo Mortensen in the lead.
Stake Land doesn't exactly reinvent the wheel, but it does manage to take a nearly bald tire and give it some much-needed tread. Um, feel free to take this movie for a spin around the block. Uh, it's the Prius of vampire/zombie movies...inexpensive, efficient, quiet, effective.
Kraig's Rating: 7/10
Movie #1:
Skyline
Movie #2:
Killers
Movie #3:
The Iron Giant
Movie #4:
The Adjustment Bureau
Movie #5:
Rubber
Movie #6:
The Fighter
Movie #7:
The Winning Season
Movie #8:
World's Greatest Dad
Movie #9:
Hobo With a Shotgun
Movie #10:
The Lincoln Lawyer